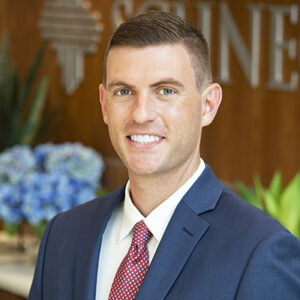 ---
About:
Dr. Jordan Maryfield is a medical oncologist, hematologist with Schneck Cancer Center. He joined the medical staff of Schneck Medical Center in 2021.

Education:
Hematology/Oncology Fellowship
Indiana University School of Medicine
Residency - Internal Medicine
Washington University School of Medicine
Medical School
Indiana University School of Medicine
Undergraduate - Bachelor of Science in Biology
Indiana University-Purdue University, Indianapolis, IN
"Staff at cancer center have been great. Dr Maryfield and Heidi went above and beyond to treat my case. I can not express how grateful I am for their focus to provide the best treatment possible. They are an major asset to Schneck. Your team are very impressive."

~ Keith, Schneck Cancer Center Patient
Get to Know Dr. Maryfield!
Get know more about Dr. Jordan Maryfield in his Q&A session below.
I grew up in Bloomfield, Indiana, which is a small town 90 minutes west of Seymour.
I married my amazing wife Cara in 2018. We have been together since I was a freshman in high school. She works as a CPA. We don't have children, but love our cat Gracie and recently added an Appaloosa horse named Remi to the family. I am lucky to have great parents. I am the middle child with two sisters. I enjoy spending time with my three nephews and three nieces.
My wife and I enjoy going out to eat, hiking, concerts, and playing board games with friends. I also play tennis and golf.
I would love to visit Bora Bora!
When I was in high school, I asked Dr. Stephen Cullen in Washington, Indiana if I could shadow his family medicine group to see if I wanted to pursue a career in medicine. After this experience, I knew I wanted to be a physician. By my second year of medical school, I was inspired to become a hematologist/oncologist.
I truly enjoy getting to know my patients and their families, helping them understand their disease, guiding them to the best treatment options, and supporting them through what is oftentimes one of the most stressful periods of their life. The specialty of hematology/oncology is changing rapidly with new and exciting treatments for our patients. It's a complex specialty in many ways and I enjoy the challenge and lifelong learning it requires.
During my fellowship, I learned that Schneck was looking to hire a hematologist/oncologist. Dr. Olivarez and Dr. Sgroi invited me to spend several days with them in clinic. I absolutely loved the experience and knew this was where I wanted to practice. The patients were delightful. The nurses and staff were warm and inviting. The facilities are very nice. I was also impressed by the collegial nature of the physician colleagues I will be working closely with. Thanks to the outstanding care Dr. Olivarez and Dr. Sgroi have provided over the years, Schneck is well respected in the hematology/oncology community and I look forward to continuing that tradition. I could not be more excited to join the Schneck Medical Center.
Providing Care at These Locations
Stay Informed. Get Involved.
Explore the latest Schneck news, blogs, and upcoming events.


News
Schneck Medical Center Named One of the Nation's 330 Top Hospitals for Physician Communication
Read News »
We're committed to your health.