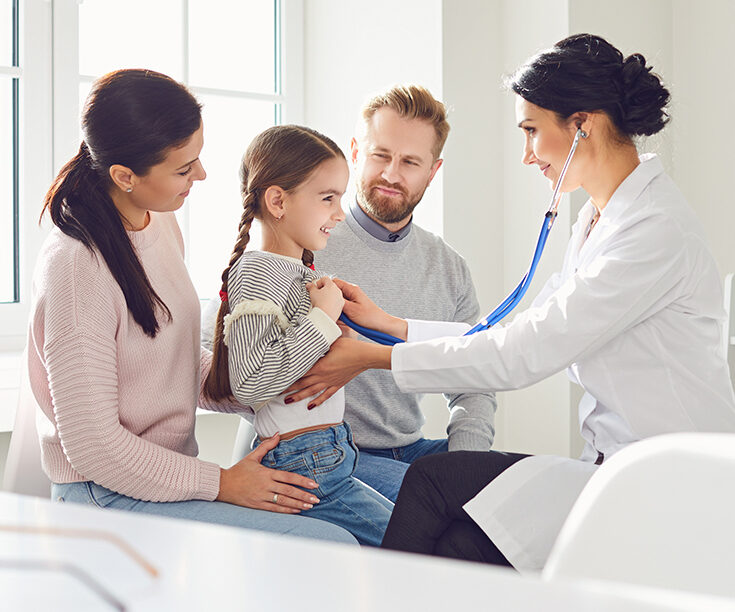 About Schneck
Schneck is in constant pursuit of healthcare excellence for our communities. Our Patient-First philosophy guides every decision we make. We know when someone cares, it truly makes a difference.
Healthy Together
Since 1911, we have evolved from a 17-bed hospital to one of the most respected health institutions in the nation. Our staff of more than 1,000 employees, 125 volunteers, and nearly 200 physicians serves residents of Jackson, Jennings, Scott and Washington counties.
Schneck is working toward a better tomorrow by pioneering efficient, safe, and healthy delivery processes. This means a better healthcare experience for you and your family, today and for decades to come.

Mission: To improve the health of our communities

Vision: To be an organization of excellence, leading transformation and advancing health

Values: Integrity, Compassion, Accountability, Vision, Excellence
Corporate History
In 1910, Mary Schneck (1837-1914) contributed land and $5,000 to build the hospital as a memorial to her late husband, Louis Schneck (1831-1905), one of Seymour's pioneer industrialists.
Jackson County Schneck Memorial Hospital opened its doors in 1911 as a 17-bed facility with the finest staff and equipment available at the time. Schneck has a long and rich history in Jackson County and the surrounding area.
Executive Team
Meet our Executive Team, bringing decades of senior healthcare leadership experience to Schneck.
Read More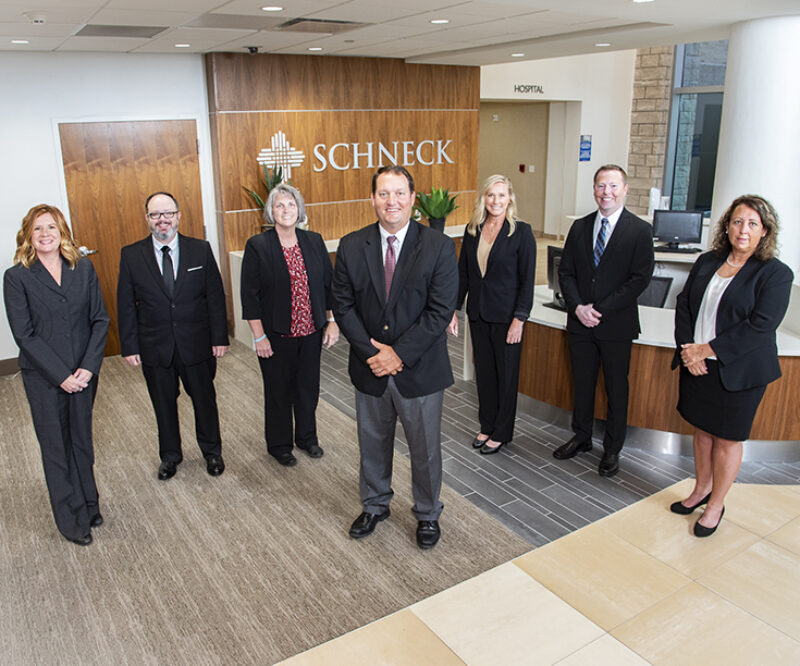 Journey to Excellence
Schneck has a mission to improve the health of our communities. We strive for efficient, safe care for every patient every time. Using our Patient-First culture, we treat each patient like a member of our own family.
The awards and recognitions aren't about winning, but a result of our continuous pursuit of excellence. These awards validate our position among the nation's best hospitals.

#1 Most Nurse-Friendly Hospital
Guardian of Excellence Award for Patient Satisfaction
Workplace of the Year
Five Star Rating for Quality:
PRISM Award, Academy of Medical-Surgical Nurses and Medical-Surgical Nursing Certification Board
Beacon Award for Excellence - Gold and Silver Levels, American Association of Critical Care Nurses
NICHE Designation - Exemplar Status, Nurses Improving Care for Healthsystem Elders Program
Acute Stroke Ready Hospital Advance Disease-Specific Care Certification, The Joint Commission
Baby Friendly Hospital, World Health Organization and UNICEF
Clinical Excellence Award - Pneumonia Care, VHA
Commission on Cancer Commendation and Outstanding Achievement Award, American College of Surgeons
Outstanding Contributions to Cancer Control Award, Indiana Cancer Consortium
Breast Imaging Center of Excellence, American College of Radiology
MRI Accreditation, American College of Radiology
Mammography Accreditation, American College of Radiology
Nuclear Medicine Accreditation, American College of Radiology
Home Care Elite Top Agency, OCS Home Care
Home Health Consumer Assessment of Healthcare Provider and Systems Honors, Deyta
Quality Respiratory Care Recognition, American Association for Respiratory Care
The American Nurses Credentialing Center (ANCC) has recognized Schneck Medical Center, for the fourth time, as an organization which provides quality patient care, nursing excellence, and innovations in professional practice. Achievement of Magnet designation is the benchmark in quality of nursing care. Fewer than 8.5% of U.S. hospitals earn Magnet recognition, and less than 1% have received it four consecutive times.
Magnet-designated healthcare organizations consistently outperform their peers in several areas including, professional practice, leadership, patient care, interdisciplinary relationships, quality, safety, and nursing research, among many other areas. Independent studies of Magnet hospitals show that patients have shorter lengths of stay, higher satisfaction, lower nurse-to-patient ratios, and lower mortality rates.
Being a Magnet-designated hospital recognizes Schneck's commitment to continuous work to improve patient care through specialized training and quality improvements, and acknowledges that our nurses are among the best in attending to patient needs, pursuing professional development, working as a team and giving to the community.

Schneck is honored to be one of the 2011 Malcolm Baldrige National Quality Award recipients. To date, Schneck is the first of two organizations from Indiana to achieve this prestigious award.
A presidential award, the Baldrige Award is the highest level of national recognition for performance excellence that a U.S. organization can receive. Congress established the program to recognize U.S. manufacturing, service, education, health care, nonprofits and small business organizations for their achievements in quality and business performance and to raise awareness about the importance of quality and performance excellence in gaining a competitive edge.
To receive the Baldrige Award, an organization must have a role-model organizational management system that ensures continuous improvement in the delivery of products and/or services, demonstrates efficient and effective operations, and provides a way of engaging and responding to customers and other stakeholders.

Schneck Medical Center maintains The Joint Commission's Gold Seal of Approval® for Hospital Accreditation by demonstrating continuous compliance with its performance standards. The Gold Seal of Approval® is a symbol of quality that reflects an organization's commitment to providing safe and effective patient care.
Organizations undergo a rigorous, unannounced on-site survey. During the review, a team of Joint Commission expert surveyors evaluate compliance with hospital standards related to several areas, including emergency management, environment of care, infection prevention and control, leadership, and medication management. Surveyors also conduct on-site observations and interviews.
The Joint Commission has accredited hospitals for more than 60 years. More than 4,000 general, children's, long-term acute, psychiatric, rehabilitation and specialty hospitals currently maintain accreditation from The Joint Commission, awarded for a three-year period. In addition, approximately 360 critical access hospitals maintain accreditation through a separate program.
The Joint Commission's hospital standards are developed in consultation with health care experts and providers, measurement experts, and patients. The standards are informed by scientific literature and expert consensus to help hospitals measure, assess and improve performance.
Joint Replacement Certification
Schneck Bone & Joint Center has earned The Joint Commission's Gold Seal of Approval® for its knee and hip replacement programs by demonstrating compliance with The Joint Commission's national standards for healthcare quality and safety.
Schneck is one of only seven programs in Indiana to earn certifications in both hip and knee replacement procedures.

Your Voice Matters
The Patient & Family Advisory Council consists of patients, their family members, and staff liaisons who work to ensure that future patients have a positive experience. The group represents a diversity of ages, races, and other backgrounds. They represent the voices of our communities.

Email Us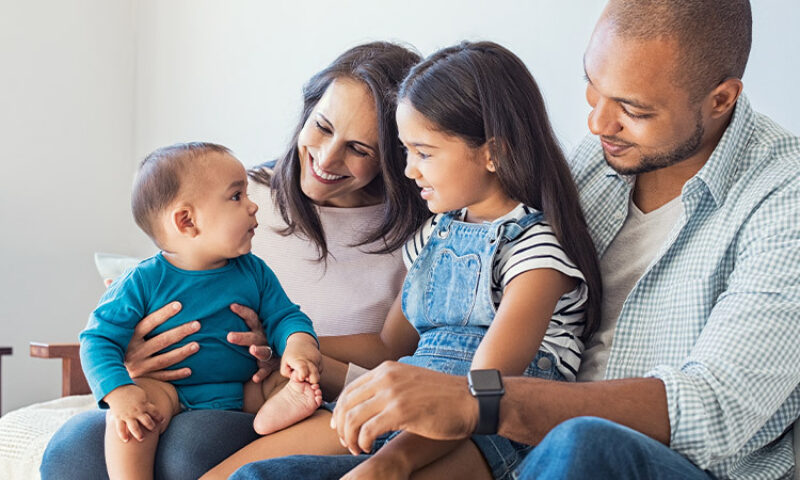 Listening to our Communities
Every three years Schneck seeks the input of community leaders, individuals, partner groups, and medical providers to assess, research, and prioritized health needs and successes. This report identifies the community's healthcare needs, potential service disparities, and actions needed to create a healthier community.
View Report
Nursing Excellence
Nursing is at the center of Schneck's mission to improve the health of our communities.
Nursing excellence means our nurses integrate the best research evidence, clinical expertise, and patient and family preferences to achieve optimal health outcomes for patients, families, the organization, and the communities we serve.

Nurse certification is an investment in professional development, and demonstrates our executive leadership's commitment to providing quality care. Clinical nurses are encouraged to become certified because of the value it brings to patients, the nursing profession, and the organization. Becoming certified engages nurses in the full circle of accountability to patients, peers and the nursing profession.
Nurse education advancement is highly encouraged to a minimum of a baccalaureate in nursing, or BSN. Schneck has maintained a BSN rate at or above 80% since 2015, by supporting nurses through a robust tuition reimbursement policy.
The professional role of the nurse within Schneck not only includes clinical practice, but also leadership, autonomy, education, research, consultation, and collaboration. The purpose of the Schneck Professional Nurse Practice Program (PNPP), a clinical ladder, supports excellence in professional nursing practice, engages staff in clinical transformation, and improves nursing quality and safety.
For more information about nursing excellence at Schneck, please email our Nurse Excellence and Innovation Supervisor.

Explore career opportunities at Schneck.
Stay Informed. Get Involved.
Explore new posts and learn about upcoming events in our Schneck communities.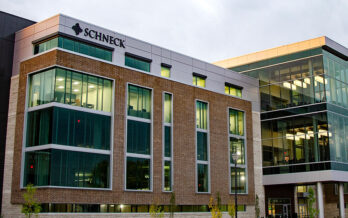 News
Schneck Medical Center Named One of the Nation's Top Hospitals for Physician and Nurse Communication
Read News »