Schneck Medical Center - Inpatient Care
Experts in the care of pediatric and adult hospitalized patients, partnering with your primary care physician to provide the highest quality of care.
During your stay at Schneck, your care will be managed by a member of our highly-skilled hospitalist team. Hospitalists are physicians who specialize in the care of patients that require a hospital stay.

The Schneck hospitalist team is comprised of Board certified physicians, nurse practitioners, and physician assistants who are experts in the care of hospitalized patients.

Our hospitalist team is available seven days a week, 24 hours a day, to provide patients ongoing and immediate care. They work as partners with your primary care physician to provide the highest quality of care.

Our hospitalist team will consult with your physician and maintain regular communication with him or her while you are in the hospital. In turn, your physician can provide the hospitalist team with valuable information about your medical history, medications, and any special needs.

Upon discharge, your primary care physician will resume responsibility for your medical care. The Schneck hospitalist team will communicate with your physician to help ensure a smooth transition. If you do not have a primary care physician, the hospitalist team will refer you to a qualified physician who will care for you after you leave the hospital.
"The hospitalists treated us with kindness and respect. They kept us informed and treated our mother as if she was their own."
Schneck Hospitalists
Expert, compassionate care for your hospital stay.
Did you or a loved one receive exceptional care?
Recognize your nurse or clinical team member with a DAISY or BEE Nomination. These awards are presented to Schneck team members who go above and beyond to provide outstanding care. Click below to learn more.
Learn More
Stay Informed. Get Involved.
Explore new posts and learn about upcoming events in the Schneck community.
Related Blogs & Events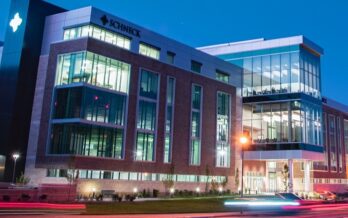 News
New Physicians Join Schneck Medical Center
Read News »