Advanced Joint Care
Our joints literally hold us together, so it's no surprise that chronic joint pain can hinder the quality of our daily lives. Schneck Orthopedics & Sports Medicine uses innovative, minimally invasive replacement procedures to restore your mobility, no matter your age.

Is Joint Pain Slowing You Down?
Watch Dr. Kris Williams, Orthopedic Surgeon and Medical Director at Schneck Orthopedics & Sports Medicine, as he discusses treatment options for joint pain.
Call to make an appointment
Our Joint Replacement Program Features...
Pre-operative education and testing

Involvement of a family member or friend

Nurses and therapists with special training in the care of joint patients, including an orthopedic nurse navigator to coordinate your stay

Private, comfortable patient suites

Individualized physical therapy sessions

Occupational therapists to help you with assistive devices, joint protection, and energy conservation techniques

Coordinated after-care guidance and follow-up calls from staff trained to help you with your transition home
Team Approach to Your Care
At Schneck Orthopedics, we take a team approach to your care. It all starts with our nurse navigator who walks through your joint replacement with you, from pre-surgery appointments and testing, to your surgical procedure, and your aftercare with physical therapy and follow-up appointments. We treat you like family and ensure all your questions are answered.

Total Hip Replacement
Schneck is one of the only practices in southern Indiana to offer Anterior Approach Hip Replacement, today's most advanced surgical technique for hip replacement.

Unlike traditional hip replacement surgery, this technique allows our surgeons to use a smaller incision on the front of the hip to replace the joint without cutting or detaching any muscle during surgery. This means less pain, a significantly faster recovery and increased mobility for patients.

Total Knee Replacement

Schneck is the only hospital in the area to offer the VISIONAIRE custom knee replacement technique. This technique leads to less scarring and a quicker recovery.
During surgery, our providers use custom-fit surgical instruments to eliminate more than 20 steps from the procedure, reducing anesthesia time, soft tissue and muscle damage, blood loss, and the threat of infection. The VISIONAIRE system reduces the risk of implant misalignment, meaning your new knee may last longer than implants placed using traditional methods.


Partial Knee Replacement
The Oxford Partial Knee implant from Biomet Orthopedics is a partial knee implant designed to repair only one of the three compartments, making it much smaller than a total knee implant. The Oxford implant is designed to prevent or delay the need for total knee replacement.

The Oxford Partial Knee is currently the only fully mobile bearing partial knee system available in the United States.

Surgeons and patients have access to a system with excellent clinical results.

Research has shown that the newer types of partial knee replacements, particularly those with moveable plastic bearings like the Oxford Partial Knee, have low wear rates, potentially giving the implants longer life expectancies.
Shoulder Replacement
We leverage advanced technology to ensure shoulder replacements restore strength and mobility, while requiring the least amount of recovery time possible. That means you can return to your life faster.
"I couldn't be happier with the results. These days, my hips are as good as new."


Gary Myers, Schneck Orthopedics patient
Joint Replacement Specialists
Schneck is one of a handful of Indiana hospitals to receive The Joint Commission's Gold Seal of Approval for hip and knee replacements. This national recognition means you can be confident that you are getting the highest level of orthopedic care.

Joint Care Locations
Schneck Medical Center, Main Entrance, Level 5
411 W. Tipton St.
Seymour, IN 47274
Get Directions »
Conditions & Treatments
Utilizing decades of expertise and the most advanced technology available, we offer the following joint treatments.
Fractures & Dislocations
Joint Pain
Osteoarthritis
Total Joint Replacement
Stay Informed. Get Involved.
Explore new posts and learn about upcoming events in the Schneck community.
Related Blogs & Events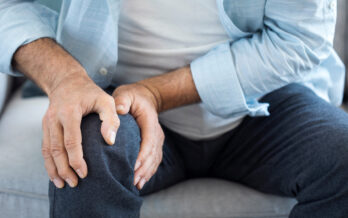 Blog
Relieve Joint Pain Now: 3 Steps You Can Take
Read Blog »