Schneck offers a complete range of surgical services.
Schneck offers cutting-edge technology and innovative procedures.
Schneck Surgical Services encompasses our Surgery Center and Endoscopy Center. Our highly trained staff and experienced surgeons use state-of-the-art equipment to help our patients have a shorter stay in the hospital and a faster recovery.
Some of the common surgical procedures at Schneck include:
Arthroscopy
Bariatrics
Ear, Nose & Throat (ENT)
General Surgery
Gynecology
Joint Replacement
Ophthalmology
Orthopedics
Pain Procedures
Plastic Surgery
Podiatry
Spine Surgery
Surgical Robotics
Urology Procedures
Some of the common endoscopy procedures at Schneck include:
Colonoscopy
EGD
Paracentesis/Thoracentesis
Blood Patch
Pulmonology - Bronchoscopy
Navigational Bronchoscopy
Photo Dynamic Therapy
Learn more about the Endoscopy Center here.
What to Expect
I have to have surgery, what happens now? Watch the video to learn what you can expect on your day of surgery.
General Surgeons & Anesthesiologists
Our experienced surgeons and anesthesiologists will guide you through your surgical procedure and back to health.
Schneck Surgical Services
Our surgery center is located in the Outpatient Care Center at Schneck Medical Center, floor 2.
Stay Informed. Get Involved.
Explore new posts and learn about upcoming events in the Schneck community.
Related Blogs & Events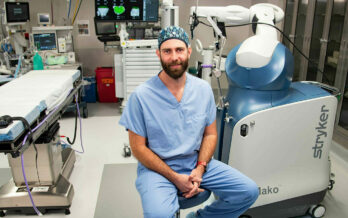 Blog
Mako SmartRobotics™ Is Transforming Joint Replacement Surgery
Read Blog »